I recently attended a Digital Drop-In webinar offered by Sarah Benoit from JB Media Institute – How Pinterest Can Grow Your Brand. I learned so much – and wanted to share it with you.
First of all – Pinterest is pretty unique in the world of social platforms in a few specific ways. Let's take a look at how Pinterest may be the unsung hero in your social commerce strategy.
97% of top searches are non-branded. No one is searching to find and converse with friends. They go to Pinterest to find an answer to a problem or expand their knowledge on a topic.
98% report trying new things they find on Pinterest. They are exploring with some purpose and Intention.
83% of weekly users have made a purchase based on the content they saw from brands on Pinterest.
Pinterest is a community of online shoppers. Higher click rates, higher conversion rates.
Search – users can enter search terms – exactly the same way they can on Google.
Active Links: Unlike Instagram – pins contain active links to a destination outside of Pinterest. That means – every pin can link back to a specific product or other content on the business website.
PINNERS ARE PLANNERS
Depending on where a person is in their thought process about a topic – they will choose a different platform to use. See the example below.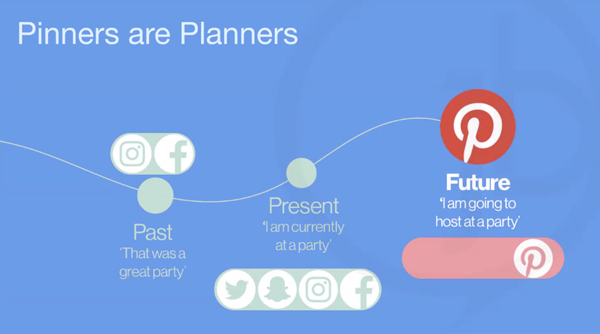 MOMENTS ARE MADE ON PINTEREST
People start searching for ideas around "moments" earlier on Pinterest than on other platforms. Users are thinking/planning – gathering info 4 – 6+ months ahead of the event.
Example: Someone looking for fun ideas for Halloween – often start their search in July and wrap up their idea gathering in September or early October.
Calendar Moments – Holiday, Seasonal, Cultural, etc.
Life Moments – Marriage, Birth, Weddings, Retirement, etc.
Everyday Moments – For yourself, for others, date night, self-care tips, looking for inspiration for something in the future
BUSINESS DRIVERS
Plan content ideas for customers based on the moments in their life. Don't wait until the moment is at hand. Create content and idea pins to publish when users are in the market for that idea.
Pinning Frequency: Pin as often as new content is added to the website. Put everything added to the website – in a pin.
Keywords: Make sure that keywords are included in the caption.
Links: Link every pin to a product of other content on your website. Someone interested enough in your pin – to click on the link – wants to know more. Make it easy for them to get what they want (to make a purchase or learn more about the topic).
Make Boards (curated collections of pins) that inspire people, answer questions, and solve problems. Create content that has value for people – don't just fill space.
Pinterest has value in promoting long-form content – pin it in lots of effective ways.
Design for Pinterest – repurpose what you can from your existing content.
Speak to the stories of your audiences. Create boards around them (moments).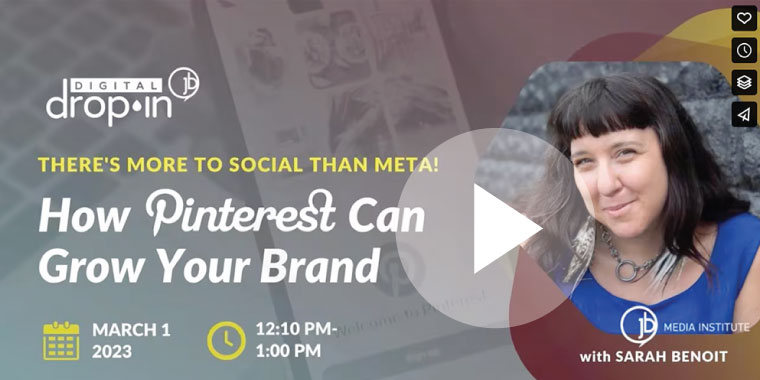 Watch the Video Here: How Pinterest Can Grow Your Brand
Download the Presentation Here: How Pinterest Can Grow Your Brand