Having a brand presence on social media is a requirement, not an option in today's socially connected world. It's valuable for advertisement, brand presentation, fan connection, and customer service.
And while social media is transforming the way that people interact with brands, it is also making waves in the way people shop with those brands. Businesses are now discovering how to leverage their social media channels to sell to fans in new and unique ways.
Cue Comment Selling. Comment Selling marries social media and e-commerce by allowing customers to purchase directly through comments on Facebook or Instagram. Comment Sellers post videos or images with their products and instruct consumers to claim their item by commenting "sold".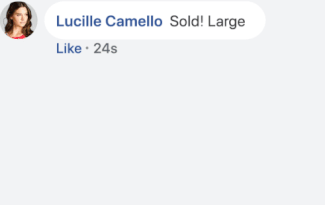 With just a few keystrokes, customers can purchase items without leaving their news feeds. It may sound silly but in its simplicity, it has amplified sales exponentially. Here's why comment selling works and why businesses should utilize this method.
Peer to peer marketing
82% of consumers proactively seek referrals from peers before making a purchase. When customers see a flurry of comment claims, this is social proof that other consumers trust your business enough to shop with you.
Seeing satisfied shoppers interacting with their beloved brands sends a message to outside audiences that you are established and worth buying from. And because you are using social media as your selling platform, you can encourage others to share and add friends to Facebook groups where your sales are taking place. Shareable posts can get you quick and easy endorsements!
Ease of use
Simply posting pictures or links to outside websites doesn't garner much, if any, engagement. Those methods aren't compelling enough for buyers.
Make it easier for them to obtain items without leaving Facebook and Instagram. Ease and efficiency are important in the buying process because any hindrance in that process will translate into hesitation. What could be easier than purchasing the item on the news feed instead of jumping through hoops to find what you want on a separate website?
Entertainment value
Consumers are not just buying products, they're buying experiences. One of the most notable byproducts of comment selling is its entertainment value.
Much like bidding, customers are in competition to claim goods with limited quantities. Every "sold" comment is a receipt of purchase, limiting your odds of getting the item before it becomes sold out.
Law of scarcity states that opportunities are always more valuable and exciting when they're scarce and less available. We don't want to miss out on these experiences. This is why comment selling drives shoppers wild.
Law of scarcity has an especially large role in Facebook Live sales. Live sales are livestream broadcasts where hosts work the crowd and conduct sales. Think of it as a brand's personal QVC. Instead of calling and purchasing, customers can comment to purchase. It's an immersive real-time shopping experience.
Customers can watch, shop, and interact with the humans behind the social media facade. During live sales, time pressures, amplified by limited stock, and competition in claiming items catalyze buying frenzies. Shopping impulses are at an all-time high because the fear of missing out is far too compelling.
Can be used by businesses of any size
Market leaders are not the only ones that can use this technique. The comment selling method is revolutionary because it can be used by businesses of all sizes. This means small and local businesses can also have a chance in the fight against e-commerce giants like Amazon.
It's all in how they use it to their advantage. Some brick and mortars have been known to utilize comment selling by providing local pick up options, opening up a whole new selling channel and giving them a chance to offer their buyers the convenience that large online stores do.
A scalable social media selling solution
While you may not feel this is a scalable selling method, there are ways to increase efficiency in the process that eliminates time-consuming tasks that pose a threat to your growing business.
With the help of software, many administrative tasks such as invoicing or inventory management can be automated. Replace hours of manual work and leave time for you to continue building authentic and intimate connections with your audience, cultivating more loyalty, more engagement, and more credibility as a trustworthy brand.
The Takeaway
Comment selling possesses an undeniable appeal with its power to drive peer to peer marketing, cultivate brand loyalty, and attract new customers quickly and effortlessly. Businesses of all sizes can use comment selling to bolster sales and drive customer engagement.
It's easy to understand why this unique selling method is quickly on the rise. There's nothing quite like it.

Article and image courtesy: insights.commentsold.com