When you want to grow your followers fast and boost social engagement, you need to go beyond just posting static images. Here are the Instagram hacks that will get your engagement and follower growth soaring.
Instagram has traditionally been a social playground for a much younger demographic. That's been changing recently after Facebook's acquisition of the visually-driven app. With more features added, including integration with Facebook's ad platform and new business pages for Instagram, there's a much wider audience as businesses leverage the channel for reach and brand visibility.
Most business owners can do well on Instagram with posting sharp images and well-crafted captions. Unfortunately, many fall into the trap of being overly promotional. A misstep we've seen time and again across other channels like Twitter and especially Facebook.
When leveraged properly, there's a huge audience to be had. Consider that users are making over 4 billion posts each day, generated by over 600 active monthly users.
If you want to reach a larger audience, engage more fans, and stand out among competitors then you have to step up your visual marketing game.
Here are some simple Instagram hacks and tricks to rise to the top of your fan's feeds.
Engage with Influencers
I often see businesses comment on competitor pages hoping to attract their customers. It's obvious, tacky, and isn't the ideal way to grow followers.
If you want to attract people in your target audience, find out who the influencers are within your industry using tools like NinjaOutreach. Those influencers are the folks your audience pays close attention to. When you identify a relevant influencer, follow and start engaging them through their posts.
The comments you make should be authentic and 100% non-promotional. Being a branded account is often enough to catch the interest of followers, and you'll regularly pick up new follows as you continue to comment and engage.
When you make posts relevant to an influencer or regram one of their posts, be sure to tag them so they receive a notification.
You'll gradually build a relationship with influencers, which puts you on their radar and leads to organic promotion and sharing of your content to their fans down the road.
Get Notifications When Influencers Post
When you're working to engage influencers, you don't want to miss when they post great content. To start, turn on push notifications for your mobile device. Next you want to visit the profile of each influencer you follow, and open one of their posts. Click the dots in the corner of the post and select "turn on post notifications."
Browse Photos Taken Near Your Business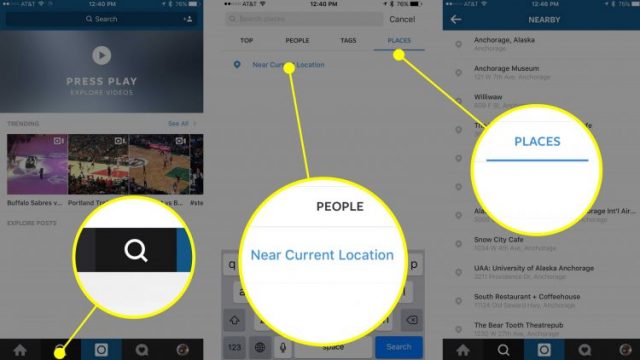 Image via Cult of Mac.
This is a great way to dig up local prospective customers and influencers if you want to target a specific region or city. Open the search window, then select "places." You'll be able to search by typing in a specific location, search by a geotag, or browse photos nearby.
Not everyone has their location recorded when snapping images, as it's a feature that can be disabled. But, there are plenty of posters who keep it enabled when they share images, and you can engage them on their photos and turn them on to your local business.
Drive Traffic With Your Bio Link
As you may have already discovered, Instagram doesn't allow for links in image captions. You can place a URL but it won't be clickable. The workaround for this is to make sure you utilize the URL link that's available in your bio.
This link is visible under your name and image, and while Instagram isn't the ideal platform for driving traffic you can still get referral traffic by providing a link in your bio.
Support Every Image with a Call to Action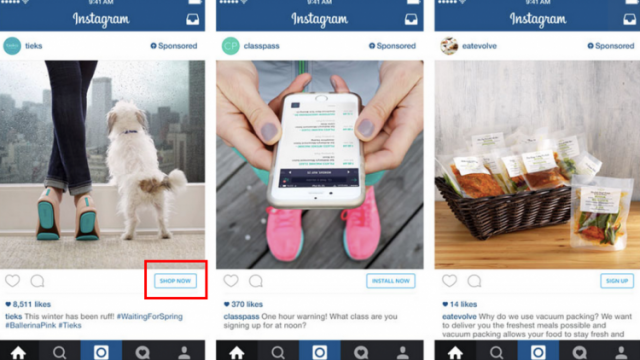 Image via Makes You Local.
Engagement will happen naturally so long as you're sharing great pictures and video, which is great. But what happens after they've viewed the post? Any time you post content to your followers, make sure to include a call to action in the caption.
It can be anything that directs them to take action, such as:
Leave a comment
Visit your site link for a purchase
Check out a recent blog post
Tag someone
Your audience is more likely to take the desired action if you tell them what you want them to do.
Don't neglect the call to action buttons you can place on your posts either. These are great for driving conversions in e-commerce stores, but there's a variety of other call to action buttons you can choose from for directing user activity.
Use a Dynamic Bio Link
Don't just settle for a static link in your bio that takes people to your root domain and never changes. Make it dynamic, and update the link anytime you have new content on your blog, new products, a new promotion, etc.
Update the bio link to match up recent posts, and send the traffic to targeted landing pages.
When you do this, try to use a URL shortener like Bitly, or UTM tags, so you can track the traffic specific to individual campaigns you're running.
Post Content Your Audience Will Love
Creating content isn't always easy. It takes time and research to discover what kind of content your fans really want to see. Look to other brand pages and competitors that interest your audience or align with your industry. Don't neglect the content shared by influencers, either. Determine what content is getting the most engagement and how people are responding.
Take cues from those posts and start creating more content that people enjoy.
Always Use Hashtags
Hashtags might come off as annoying to some, but they're a big part of getting your content discovered on Instagram. Users are constantly searching hashtags related to their interests, so including existing and popular hashtags—rather than just making up your own for most posts—is a great way to expose your account to a wider audience.
While you shouldn't worry too much about the number of hashtags you use, research has shown that interactions are highest on posts with 11 or more hashtags.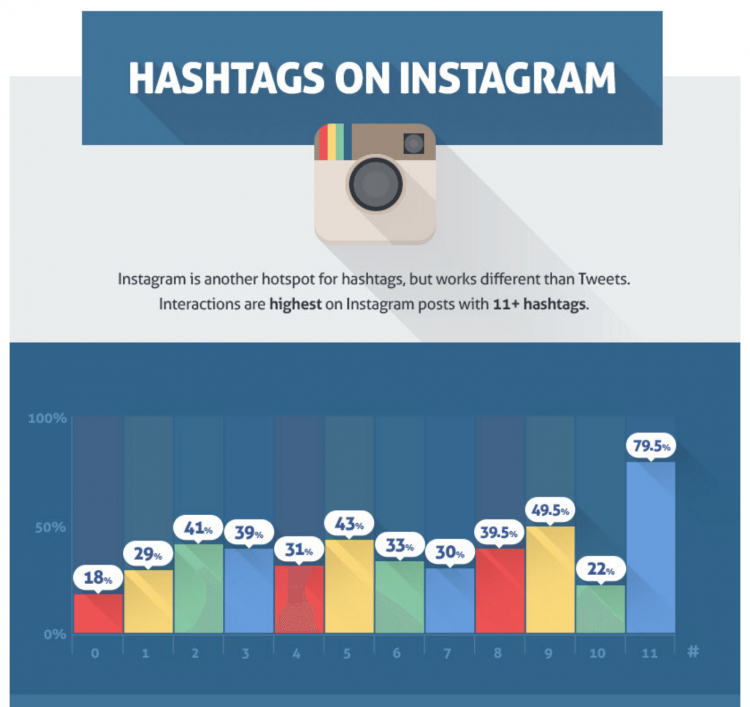 Image via Buffer App.
Search for The Most Relevant Hashtags
If you're running a special campaign, by all means use a unique hashtag. This is a smart way to track exposure and reach as fans interact and share the promotion.
For generic posts though, don't wander off into the creative weeds too often. Instead, search through existing hashtags that relate to your content. Open the Discover tab, type in your keyword, and select "tags" from the top list. You'll get a list of related hashtags along with the number of times that hashtag has been used.
It won't be long before you develop a long list of tags you frequently use. I recommend opening a note app on your phone and adding your favorite hashtags. The next time you make a post, just open the note app, copy your list of hashtags, and paste them into your caption.
Lift Exposure by Posting Often
Posting regularly is one of the top Instagram hacks to keep in mind. Union Metrics analyzed the most popular, active brands on Instagram and found some interesting data. First, major brands post an average of 1.5 times per day, but that doesn't mean you should aim for that. In fact, during the analysis, Union Metrics found that some brands were posting as much as 10 times per day.
While previous studies of other social channels have shown a marked drop in engagement with an increased volume of posts, there was no appreciable loss in per-post engagement on Instagram. So post often, and post consistently.
Even average users post frequently, with most accounts posting at least one new image per day. Keep in mind that Instagram's algorithm uses a variety of factors to decide what content gets shown, and what gets buried. Posting often (and consistency) is just one part of working that algorithm to improve your organic reach. Buffer's team breaks down the 7 key factors of Instagram's algorithm in this post:
Engagement: How popular the post is
Relevancy: The genres of content you are interested in and have interacted with
Relationships: The accounts you regularly interact with
Timeliness: How recent the posts are
Profile Searches: The accounts you check out often
Direct Shares: Whose posts you are sharing
Time Spent: The duration spent viewing a post
The more often you post relevant, targeted content, the more your chances improve of expanding your organic reach on Instagram.
Pay for Relevant Shoutouts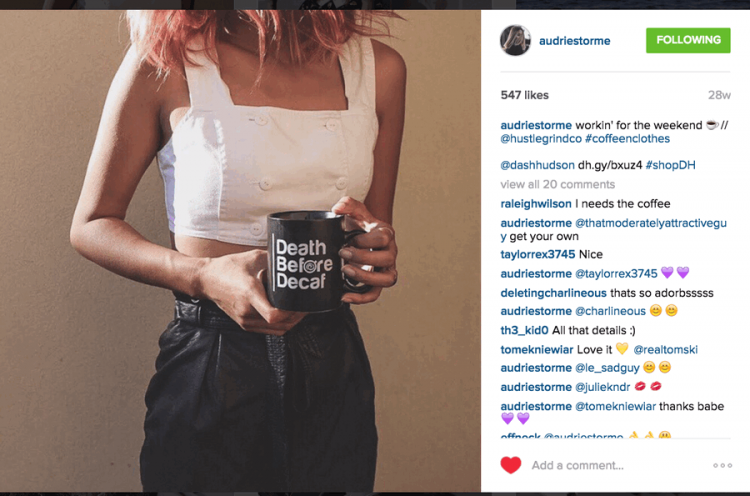 Image via InBound.
A smart way to build an audience in a hot second is to pay for influencer shoutouts. Prices are set by the individual, so the best approach is to reach out to an influencer to find out if they're willing, and what their process is for a shoutout.
Once you negotiate the terms, they'll make a post directing their fans to your Instagram or mentioning your product, brand, or service in the post.
Don't just choose any influencer with a lot of followers. Find the most active accounts in your industry with high engagement on their posts (likes and comments).
Cross Promote Your Instagram
It always surprises me the number of businesses that don't think to cross promote their social accounts. If you're active on Facebook, Twitter, Reddit, and other social/community sites, be sure to talk up your Instagram.
Share your content to other social channels, use calls to action to direct traffic, and make sure your fans know about your presence on all social networks. Create exclusive incentives for followers as a way to entice fans to follow you on your channel.
Post More Than Static Images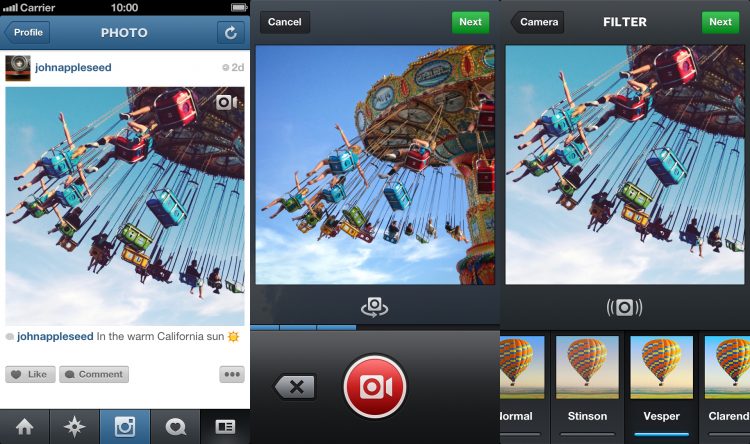 Image via SoftTonic.
A survey from Hubspot revealed that 43% of consumers wanted to see brands release more video content. In addition, visual marketing trends show that nearly ¾ of internet traffic will revolve around video in 2017.
Cisco projects that number to rise to 80% or more by 2019.
Quality photography and natural pics are the heart of Instagram, but if you really want to engage your fans then leverage video and animations. With videos auto playing in the feed, it's a great way to stop their thumbs on a dime.
Leverage Muted Video
As much as 85% of videos on Facebook are viewed without sound. A lot of people prefer this method even on Instagram, so try to create videos and animations that utilize in-video captions or subtitles so you can tell your story without sound.
This makes it easy for them to digest the content you share, regardless of the environment they're in. You never have to worry about someone missing the hook behind your post simply because they can't hear it.
by Derek Cromwell, shutterstock.com
Article courtesy:shutterstock.com