Virtually every business can benefit from some form of sales automation. This includes those of us with online creative retail businesses. The key is to understand which parts of your business can be automated while not losing the personal touch our customers expect of us and our business.
The following article touches on many of those points. We are sharing it with permission from the author – Sushant Shekhar from Salesblink. 
Closing a deal requires a lot of effort. A sales rep spends a lot of time understanding a customer's needs, jotting down notes, entering data, and following up. To close a deal, one has to try hard and connect with several prospects. The endless meetings, phone calls, and emails get even more daunting when the number of prospects and customers on the list grows. It simply gets too challenging to handle everything manually. Also, some tasks are repetitive and take away a significant chunk of the sales rep's time. That is why you must consider going for sales automation. After all, in this age of technology, using tools that help you out is the right thing to do.
Table Of Contents
What Is Sales Automation?
Sales automation refers to automating manual and time-consuming sales tasks with the help of software, artificial intelligence, and digital tools. It makes it easier for the sales team to focus more on important tasks such as building relationships and nurturing leads.
How Sales Automation Benefits A Business?
Every business has different needs. However, there are several benefits of sales automation software. It would benefit a business in the following ways: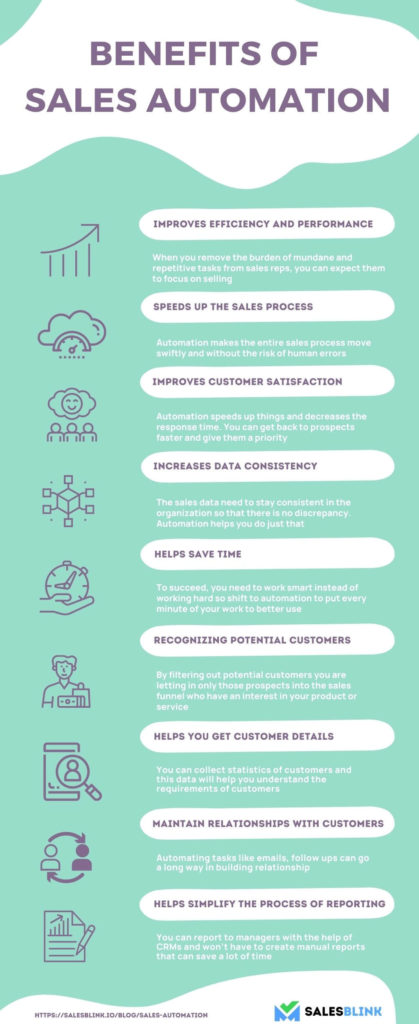 1. It enhances the efficiency, performance, and productivity of the sales team.When you remove the burden of mundane and repetitive tasks from sales reps, you can expect them to focus on selling. With automation, your productivity and performance will improve, and as a result, you will be able to close more deals than usual.
2. It speeds up the sales process whilst increasing the accuracy.
Automation makes the entire sales process move swiftly and without the risk of human errors. What seems to be a tiny error at the surface in sales can result in a heavy loss to a business.
3. It improves customer satisfaction by decreasing response time.
Automation speeds up things and decreases the response time. You can get back to prospects faster and give them a priority. It would naturally make prospects happy and more likely to convert. You can expect to get repeat business if you pay attention to the existing customers. This is one job that AI cannot do; nobody would want to connect with a robot. So, let automation tools handle repetitive tasks for you.
4. It increases data consistency.
The sales data needs to stay consistent in the organization so that there is no discrepancy. There can also be problems due to erroneous data, and you must fix that. Automation helps you do just that. There are fewer chances of errors when you automate tasks, and this will benefit your team.
5. It helps save time.
To succeed, you need to work smart instead of working hard. That is why you need to shift to automation to put every minute of your work to better use.
6. It helps in recognizing potential customers.
Sales automation helps you filter out potential customers from those who are not promising enough. By doing so, you are letting in only those prospects into the sales funnel who have an interest in your product or service. In turn, you are saving the time and effort of the sales team by channelizing them to prospects who are likely to convert.
7. It helps you get customer details. 
You can collect sufficient statistics of customers with the help of sales automation tools. This data will help you understand the requirements of customers. Once you understand their needs and wants, developing strategies that help you close more deals is easier. No matter in which industry you are in, it is essential to be customer-centric to succeed.
8. It enables you to maintain relationships with customers. 
There are many activities in the sales process. Some of them are redundant but essential as you interact with the prospects or customers. They include sending emails, follow-ups, and reminders. It is tough to send all of them manually. Automating these steps can go a long way in minimizing the burden on sales reps.
9. It helps simplify the process of reporting.
Handling team reporting is not easy. It is a long process. However, once you choose to automate it, you can report to managers with the help of CRMs. You won't have to create manual reports, and that can save a lot of time. Investing in automation is worth it.
Above all, automating sales suits organizations that have a limited budget or a small team. This way, one can make the best possible use of what is there at hand.
The above benefits of automating sales are convincing enough to make sales teams going for it.
Automating The Key Elements Of The Sales Process
As mentioned above in the list of sales automation benefits, automation helps in reducing the workload of the sales team. Here's how software can help improve most aspects of the sales process.
1. Emailing
Sales reps spend a considerable part of their day writing emails and sending them. By automating the email tasks, the sales reps can take a breather and use their energy on more important tasks, for example, speaking to prospects and building a relationship.
To begin with email automation, you must take a closer look at the everyday email tasks. This includes the following:
a) The common emails that the reps send daily
b) The time involved in writing and editing emails
c) The amount of customization and image personalization needed
You would note that most of the email tasks are redundant. That is, sales reps need to do the same thing several times a day. There are some common emails that sales reps send, such as welcome emails, demo emails, reminders, and thank-you emails. They even have to follow up with leads by sending emails. It can be pretty time-consuming.
How about automating the entire process? You can make use of email templates to help manage time better and repurpose them. Using an automation tool, you can create email sequences along with automated follow-ups. Such tools also let you personalize the emails, which is what you need as a sales rep. Additionally, you get to track the clicks and opens of emails. It gives you a better understanding of what kind of email campaigns will work.
2. Lead Prioritization
When you are generating leads, which is often the beginning of the sales process, there is usually a high volume. Out of them, some are just there to pass their time.
So, how do you know who has an actual interest in your product or service? There are lead scoring tools for this purpose that work on artificial intelligence. It helps prioritize leads that make reps work in the right direction.
You have to create a model of the ideal customer and mention the criteria to score leads.
Automation of the lead prioritization process helps save the time sales reps spend in qualifying leads. It is especially helpful for companies that are suffering due to low conversion rates and longer sales cycles. Low rates and long cycles occur because sales reps are spending too much time following leads that are not interested in the product or service in the first place.
3. Lead enrichment
During the prospecting stage, having additional information about the leads can be pretty helpful. Knowing about the prospect's company and what it offers, along with its vendor details and social media presence, will give sales reps a great way to connect with them. They will be happy that you have done your research well before approaching them. Ultimately, this will help leave a good impression on the prospects and assist in closing more deals.
There are several lead enrichment tools available that gather information from several data sources in an up-to-date manner. In short, automated lead enrichment presents sales reps with a complete profile of prospects so that they can build their relationship with them and take the conversation ahead.
4. Lead distribution
When you call the lead as soon as they sign up, it increases their chances of answering your call. However, that is not possible most often. You get leads from several channels such as blogs, social media platforms, and websites.
It takes a while to assign them to sales reps, resulting in a time gap that is not good for the business. Contacting the lead too late may make them lose interest in your product or service.
You can cut down the response time by automating the lead distribution and thereby closing deals faster. With the right software, it gets easy to assign leads to reps based on their location, type of industry, size of the company, and much more. With automation, sales reps can contact prospects faster than before.
5. Scheduling meetings
When a sales rep follows a lead and things go well, there is a need to schedule a meeting with the prospect. However, scheduling is not so easy as there is usually a problem with the time slots. Usually, the prospect is not free, or the sales rep can't allot time when the prospect is free. It can sound unprofessional too. That is why you must automate the process of scheduling a meeting.
Many such tools help sales reps do that. As a sales rep, you have to send over a link of your schedule to the prospect, and they can choose the time slot that suits them the best.
You can use a stand-alone tool for scheduling appointments and meetings if you don't want an all-in-one CRM software.
6. Reporting
Sales managers have to spend more than 1 hour daily on creating reports and attaching them to emails. They do this tedious task to keep their team in the know and to ensure that they stay motivated. It keeps everyone aware of how things are moving in the sales pipeline and how you can measure the output.
Report generation is a time-consuming process as it involves a lot of manual data entry and tabulation. There is also a possibility of the occurrence of a mistake in recording the data. It can lead to an erroneous report. So, by choosing to automate the task of report generation, life will be much better for sales managers, and there will be error-free reports for the whole team. In addition to that, you can create multiple reports in a short period.
You can use a reporting automation tool or a CRM tool for creating automated email reports.
Best Practices To Follow For The Implementation Of Sales Automation
While automating sales is beneficial for your sales cycle, you have to follow some steps to implement it the right way,
1. Take a thorough look at the sales process
Before going ahead with automation, you have to look at the sales process and what approach you presently use. Doing so will help in finding out how long each activity takes and what you want to automate.
2. Clearly define what you want to achieve
After you are done with identifying the shortcomings of your existing sales process, you have to set goals and define what you want to achieve by automating the sales process. You should know the areas that require automation.
3. Consider options
Once you know what you need, you would want to pick an automation tool. But at this point, you have to look at the options as many other organizations in your industry might be using the same sales automation tool.
4. Create an automation group
If you want to ensure that you don't end up in a mess, you have to create a group of employees who will closely watch each step while the implementation process occurs.
5. Test the automation process
Before you get to the implementation stage, you have to run a trial to identify the glitches and roadblocks.
6. Gearing up for it
Once you complete the trial, you have to start the automation process and have a well-chalked-out procedure. Getting the sales rep trained and getting them used to the new system is equally important.
Sales Automation With SalesBlink
As you now know the benefits of automating sales and how it can enhance each stage of the sales process, let's take a look at SalesBlink.
SalesBlink is a sales outreach automation suite that takes you from prospecting to outreach to closing in the blink of an eye. Using our platform, you can automate the sales process and turn an otherwise daunting task into an activity you look forward to. Our software enables multi-channel outreach.
Prospecting 
There is a vast business database for the prospecting stage using which you can find the details of companies and professionals. With lead enrichment, you can get sufficient information about prospects before you reach out to them.
You can use SalesBlink's email verifier tool to verify the email addresses you retrieve before moving on to the next stage. Doing so will make sure that you don't send emails to invalid email addresses, or else it will affect your campaign.
Outreach
SalesBlink enables you to launch outreach campaigns through different channels like email, Linked In, and phone. We help create email campaigns and automated follow-up sequences. You can make use of the available email templates and employ personalization to increase open rates. We offer image personalization of emails at a large scale as well.
The USP of our platform is our campaign builder that helps you portray the plan of action and how to execute it. There are options to build your campaign from scratch or use the existing templates and organize the flow of your campaign. Check out the following tutorial on how to use SalesBlink's Campaign Builder:
Our email tracking feature enables you to analyze the number of opens, clicks, replies, and bounces.
Closing
There is a Sales Pipeline to manage deals, and you are free to customize pipeline stages as per your requirements. This way, you can track the performance of your sales team. You can always glance at prospects who have been in the pipeline for too long.
To schedule meetings with interested prospects, you can use our meeting scheduler that helps schedule meetings seamlessly by syncing the Google Calendar.
Our software helps with predicting revenue as well.
The CRM system makes managing prospect data easier. It helps keep track of the conversation history in one place so that you can track your progress periodically.
The Biggest Con Of Sales Automation
After understanding the benefits of automation in the sales process to close more deals, it may seem like a blessing. However, too much of a good thing is also a problem at times. Believe it or not, there are downsides to too much automation as well.
The foremost reason for not automating every task of the sales process is the lack of human touch. Without human intervention, some tasks look mechanical and lifeless. Most prospects wouldn't be pleased when you automate all the tasks, and they have no humans to interact with.
For example, when you reach out to customer care, you would want to speak to a representative on the other side and not to a robot. It is that human-to-human bond that matters. A human is irreplaceable and can do certain things much better than a robot.
The Bottom Line
With automation, you are using software, and AI to automate tedious and redundant sales tasks. Doing so is advantageous because it helps save the time and effort of salespeople. You can automate many sales process tasks, right from emailing and lead prioritization to lead distribution and report generation.
Even though there are many benefits of sales automation and automation of sales tasks is a hit among most businesses today, you must not fully automate the sales process. Reserve it for tedious and time-consuming tasks because there is no warmth in what you do without the human touch. You cannot replace humans, and automation is just for complementing the work we do.